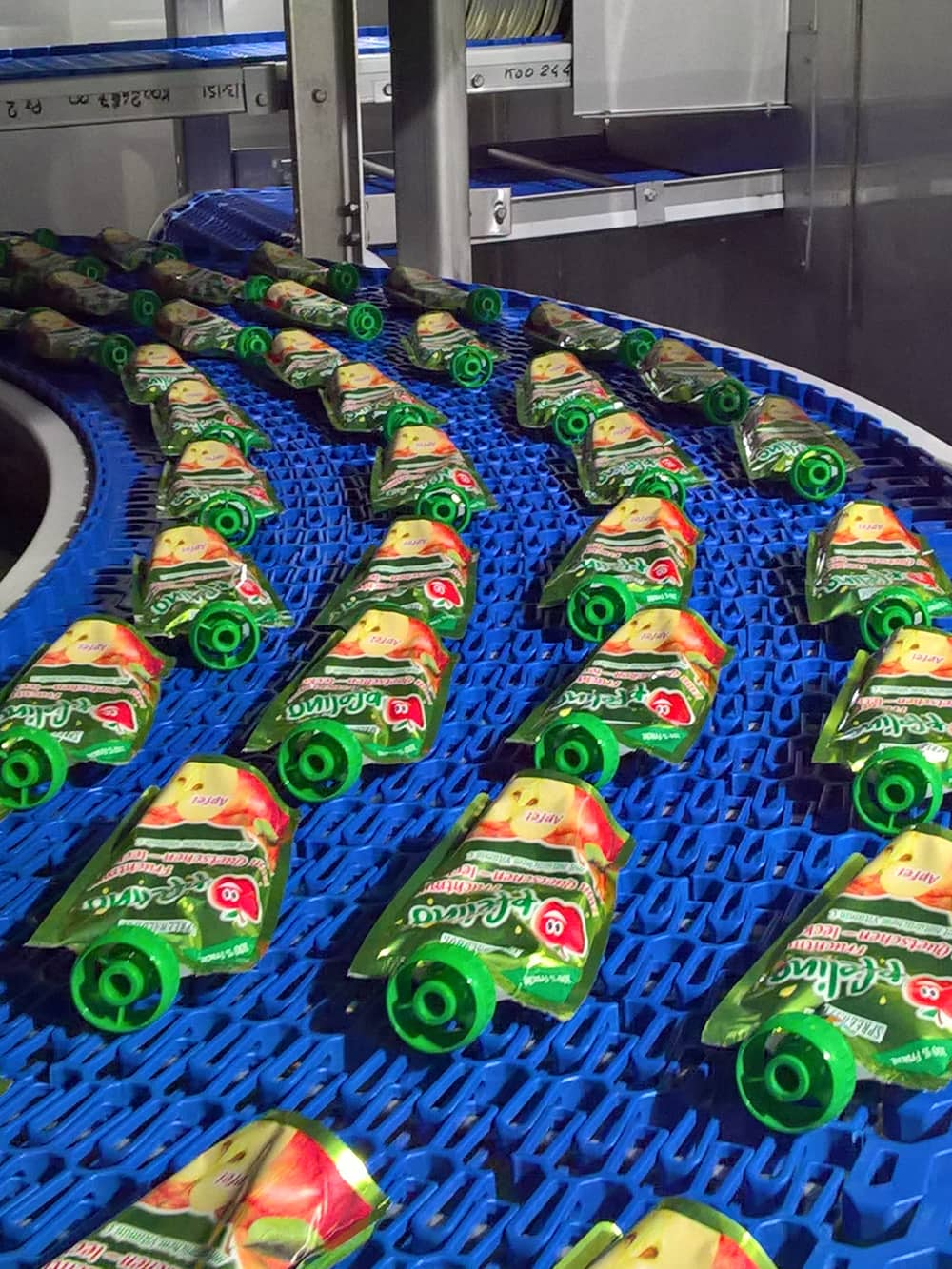 BELT CONVEYORS FOR FRUIT AND VEGETABLES
Customized industrial plants for fruit and vegetables treatment
Sarp designs customized belt conveyors and thermal treatment systems for fruit and vegetable products based. Our machines are ideal for plastic or paper packages, like bags with cap and spout (doypack, spout pouches, cheer pack, stand up pouches), and also for other types. We realize, for example, fruits and tomatoes purees processing systems. The ideal treatment for these production lines consists of a pasteurizing process or the hot holding process, in order to hold the product at high temperature, that allows to break down the bacterial. The next step is to cool down the package, which allows a fast-thermal shock, necessary for the preservation of the product, and to ensure easy handling or storage of secondary packages. These systems can work by water or by air, according to the functionality of the production line and your needs.
We project each machine to answer to the products, pace, and timeline needs, in order to optimize these three aspects. That is why in our Sarp lab research and development center, we are looking for customized solutions, in line with your exigencies.
Application areas
Products used for this application
We design and buld your tailor-made Fruits and Veg production line
We believe that sharing and listening are the winning formulae that distinguish our job. Every Sarp production line is the result of an accurate on-site inspection, of a study about your needs and about the characteristics of your product to ensure a deep talk about the most suitable machine for you. Finally, we design your spiral belt conveyor with precision and accuracy, thanks to the long-term knowledge of our Sarp lab research and development center.
The belt conveyors for fruit and vegetable-based products allow you to save in:
spaces: thanks to the vertical development, the footprint is minimal.
maintenance: materials are durable, flexible e, and easy cleaning.
Timelines: it is possible to adjust the sliding speed and to find an optimal belt path. For thermal treatment, the use of insulation rooms ensures a temperature exchange near to 100%.
Our customer service is at your disposal in every moment: from the information request to the after-sales support, including the training for the proper use of the machinery.
Discover the other Transporters